The Basics of Vasstu Shastra or Vedic Architecture
To define Vaastu Shastra - Vaastu , which means physical environment and Shastra meaning knowledge or principles, is one of the traditional Hindu canons of town planning and architecture.Its current popularity stems from its focus on a wholesome approach
A home can be so much more — it can be a special space that creates an influence of good health, happiness, family harmony and enlightenment. Vedic architecture reliably gives our homes these influences by using laws of nature that connect individual intellingence with cosmic intelligence.
To define Vaastu Shastra - Vaastu , which means physical environment and Shastra meaning knowledge or principles, is one of the traditional Hindu canons of town planning and architecture.
Vaastu Shastra or Vedic Architecture as it is sometimes referred to , is basically an ancient Indian science of architecture and buildings based on scientic facts that were evolved at least a few thousand years ago .Vastu shastra helps in making a congenial setting or a place to live and work in a most scientific way taking into account all the advantages and benefits bestowed by nature. It takes into account the elements and energy dominated by natures forces, and structures it in a way , where it enhances wealth, health, prosperity and happiness for an individual.
Vastu Shastra in essence unifies many subjects together like science, art, astronomy and astrology. It can also be said as an ancient mystic science that was used for designing and building the ancient palaces . Vastu Shastra according to believers helps one to make lives better by securing the living space and preventing things from going wrong.
Vaastu as the science of direction , combines all the five elements of nature and balances them with an individual and the material. The five elements namely Earth, Water, Air, Fire and Space .According to scriptures , ancient sages and seers had known the secrets of using all the five elements of this universe and their special characteristics and influences such as the magnetic field, gravitational effect etc. of Earth, the galaxy in the sky, the directions and velocity of the winds, light and heat of the Sun , including the effects of its Ultra-Violet and Infra-Red rays, the volume and intensity of rainfall etc.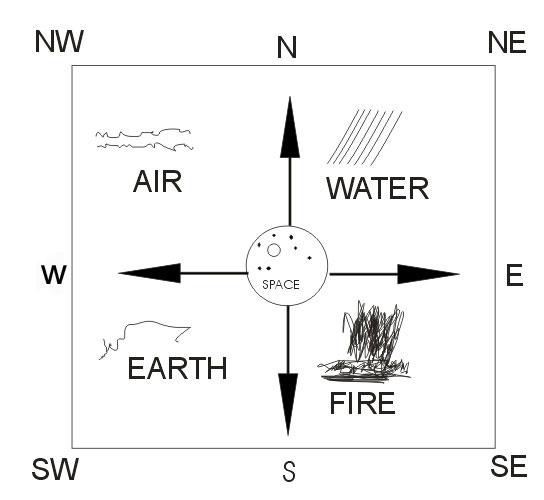 This knowledge formed the base for what evolved as Vaastu Shastra. The five elements otherwise also called "Paanchbhootas" of the nature , pave the way for enhanced health, wealth, prosperity and happiness in an enlightened environment.
Why does one need Vaastu ?
The Vastu principles are very simple and are easy to follow. The principles of Vaastu provides guidelines from the buying of the land to the actual construction. Vastu helps to balance out the energies present in a structure with simple modifications.
Most importantly Vaastu extracts the positive energies of the five basic elements of nature - the solar energy of sun, lunar energy of moon, wind energy, magnetic effects of earth and heat energy of fire and balances them to bring harmony into the life of a person planning to build or live on a premises.
It would be surprising to know that Vastu principles were based on the theories of electromagnetism. These principles of Vaastu were laid down thousands of years before electromagnetism was discovered !
Components of Vaastu Shastra
There are four categories of Vaastu
1, The Earth site or Bhoomi, which is the principle dwelling place on which everything rests
2, The structure or the Prasada, which would be the building
3, Moving vehicles or Yaana
4, Furniture or Sayana..
So, the principles of Vaastu Shastra extend from the macro level to the micro level which includes site selection, site planning and orientation. It also deals with zoning and disposition of rooms, proportional relationships between the various parts of buildings and the character of the building.
Some perfect Examples of Ancient Buildings that have been built as pere Vaastu
1, The Sun Temple in Konarak -Orissa ,India is a perfect example of Vaastu
2, The TajMahal - Agra , India
3, Prashanti Nilayam - Puttaparthi , India
4, The temple of Lord Sri Venkateshwara - Tirupati, India.
5, Nirmal Hriday Bhawan - Calcutta (Mother Teresa) , India.
6, Vivekananda Rock Memorial - Cape Camorin( Kanyakumari) , India.
7, Vijaynagar Steel Plant - Torangallu , India
However in today's age & time with growing urbanisation, paucity of space and more significantly the rampant sense of faithlessness in anything that modern science fails to explain, it is practically impossible to even dream of a home or office confirming to the laws of "Vaastu". Its current popularity stems from its focus on a wholesome approach to space and form.
3 comments